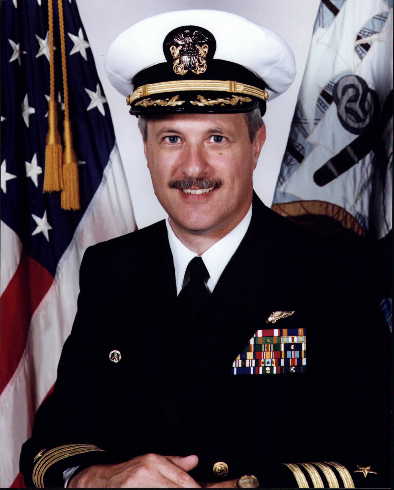 A native of Concord, New Hamshire, Captain Luti graduated from the Citadel and was commissioned in May 1975. Upon completion of flight training, he was designated a Naval Flight Officer and served his initial sea tour with VQ-1 flying EA-3B reconnaissance missions throughout the Western Pacific during deployments aboard the USS CONSTELLATION (CV64) and the USS Enterprise (CVN 65).
Transferring to Whidby Island in 1979, he transitioned to the EA-6B Prowler and served with VAQ-131 while deployed aboard the USS INDEPENDENCE (CV 62) to the Indian Ocean in response to the Iranian hostage crisis. During his next deployment, he transferred in 1982 to the U.S. Naval Academy where he served as a company officer and Aide to the Superintendent.
Captain Luti graduated from the Naval War College and earned a masters degree in national security and strategic studies in 1986. He then reported to VAQ-135 for his department head tour where he deployed aboard the USS ENTERPRISE and participated in the EARNEST WILL convoy and the 18 April 1988 PRAYING MANTIS combat operations in the Persian Gulf.
In July 1988, he was selected to participate in the Navy's post-masters program at Tufts University Fletcher School of Law and diplomacy. He graduated in 1990 having earned a M.A. in Law and Diplomacy and a Ph.D. in international relations. He was also also awarded the Ambassador Edmund P. Gullion Prize for academic excellence by the faculty.
Captain Luti then joined the Zappers of VAQ-130 as Executive Officer and flew numerous combat missions during DESERT STORM. In May 1992 he took command of the Zappers and made one deployment in response to the Yugoslav crisis aboard the USS JOHN F. KENNEDY (CV 67). He relinquished command in June 1993 and served as the Deputy Director of the CNO Executive Panel in Washington, DC. In March 1996 he was selected by the CNO to serve as a Congressional Fellow in the Office of the Speaker of The House of Representatives.
Captain Luti has accumulated over 3,000 hours of flight time. He is authorized to wear the Legion of Merit, the Meritorious Service Medal, the Strike Flight Air Medal, the Navy Commendation Medal (two awards), the Navy Achievement Medal (two awards), and various unit commendations and campaign awards.
He is married to the former Donna M. King of Concord, New Hamshire, and has two daughters Lauren and Natalie.